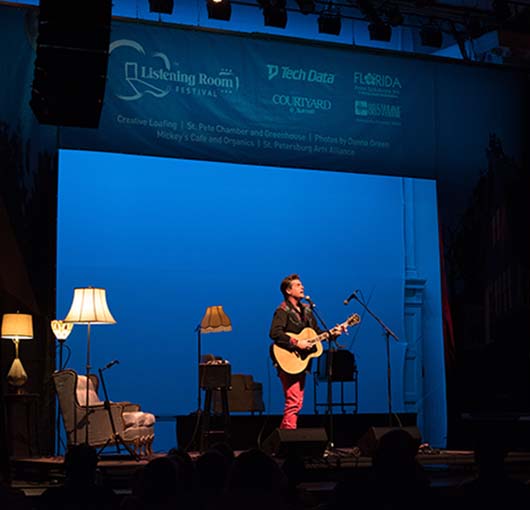 The Main Event – LRFest Showcase – Friday, April 16th, 2021

UPDATE – this special event (rescheduled from last year) will take place in the outdoor plaza at the Mahaffey Theater. Plenty of space for your safety and enjoyment.
If you are holding tickets (Reserved or VIP) for last year's date, here is what you need to know:
Your VIP tickets ($50-100) are still good for this event, subject to seat re-assignments as health guidelines require. Bring your tickets.
Reserved seats ($35) have been refunded by the Palladium. Box Office, Megan Byrne, (727) 822-3590
NEW TICKETS/SEATING
For your safety and comfort, the lawn will be set up in sections of 4 seats, with 6 foot gaps in between. The price of a (4-seat) section is $180, and you can occupy that section with 1-4 people. We encourage you to team up with friends to save money and maximize space we have!
Buy a Section (up to 4 people)
LRFest 2021 Showcase
$180.00
LRFest2021 – single tickets
$45.00
If you can only attend one event during the festival, this is the one! Our two headliners and our local opening act perform a showcase set on the lawn on the Mahaffey Theater in downtown St. Petersburg. This is the event where we bring everyone together for a great night of community and music.
Gates open at 7pm
Concert is 7:30-9:30pm.
No food or coolers. Cash bar available.
Due to health restrictions, we will not have an after-party this year.
House Concerts – the heartbeat of our festival!
House Concerts and Living Room Shows
Small, intimate, remarkable events are the hallmark of our festival. We bring communities closer together, where they can experience music up close and personal. Nothing beats the warmth of these events, and we'll hope you'll take in several house concerts during our festival.
You'll need a fan membership to our network (free with this link) or a personal invitation from a host to attend.  After you join, you'll be able to access the details of each show on our calendars, and send an RSVP to the hosts of the events you'd like to attend.
Join now to get access to festival house concerts and more!